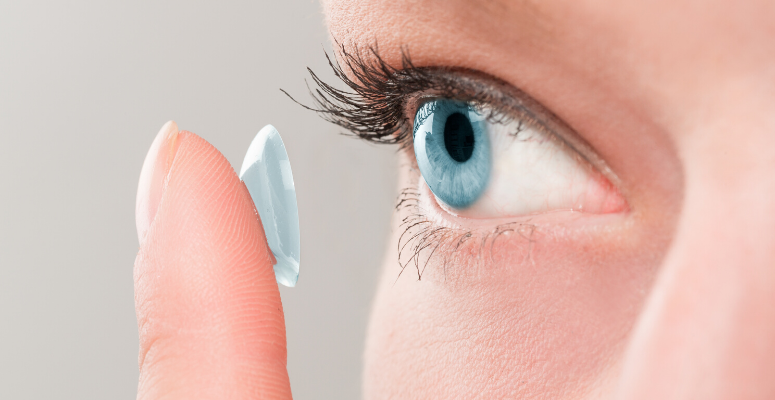 Blurred Lines: Why in-person Contact Evaluations are Better Than Online
According to the CDC, it's estimated that 45 million people wear contacts in the US alone. A recent study reported that 35% of those people used the internet when it came to purchasing their contact lenses. The temptation of discounted prices and the convenience of online retailers can be difficult to argue against. However, the CDC also reported that 88% of contact wearers report behaviors that put them at risk for eye infections.
The Importance of Proper Fittings
It's important to visit an optometrist when it comes to getting evaluated for contacts. As much as they're a part of our daily routine, it's vital to remember that they're medical devices that should not be worn without medical supervision. Risking eye infections, permanent vision damage, or blindness is not worth saving a few dollars. Contact lenses do not fit properly by accident. Proper fittings entail testing, trials, and professional guidance.
Healthy Eyes, Healthy Body
Even if you've been wearing contacts for years, it's still important to visit your optometrist for an annual eye exam. This ensures that your prescription and fit is accurate and up-to-date. In-person exams also look for signs of diseases such as glaucoma, diabetes, or neurological issues such as strokes, brain tumors, aneurysms, and multiple sclerosis. Visiting your local optometry will provide you with relevant, necessary information when it comes to the care and safety of your contact lenses.
Provider Perks
Many optometrists offer patient-friendly policies that you may not be aware of. Special discounts, rebates, and an "open box policy" that allows you to replace your lenses if your prescription changes for free, are all benefits that can close the gap between getting your eye exam in-person versus ordering from an online retailer.
Specialized Care for Individuals
There is no such thing as one-size-fits-all contacts. Counterfeit products, substituted brands, recalled lenses, and improper storage are all risks that you face when ordering your contact lenses online. Only an optometrist can assess how a contact lense is resting on your eye. Changes in brand or fit can be necessary to avoid eye irritation, difficulty with vision, dizziness, and headaches.
Online contact lense giants can be hard to compete with. It's important to consider their strengths and identify the relative advantages of a traditional optometrists office. The biggest advantage to seeing a doctor in-person? Patients experiencing any issues with their contact lenses, such as dry eyes, can be diagnosed and treated effectively. The long-lasting relationships and excellent customer service that comes from visiting an optometrist in-person can never be disrupted or replaced by an online retailer.